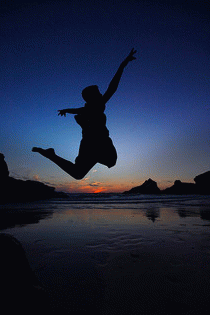 (
Image
by
Blinking Idiot
)
Details
DMCA
There are words to express awe, joy, like those I used in the title-- Amazing, Awesome, Incredible -- but there are a lot more great words, and then... there are personal utterances-- and actions and movements. What do you do? What examples from movies or video are really great? Just as singing a song or even listening to one can bring you pleasure, trying out new ways to express awe, pleasure, joy can also expand your happiness and pleasure vocabulary.

Here are a few to prime the pump:
OMG, omigod,

Wow, or Wow Wow Wow, or Wowie or wowsie

Oh sh*t!

from the sixties-- "Far Out"

jumping for joy

Elders in wheel chairs nod their heads and may close their eyes

When I taste something awesome I close my eyes and tilt my head up

of course, smiles
Babies wave their hands and pull their heads back. Toddlers wiggle their butts.
Try some of these out, even the baby and toddler movements.
What words, what sounds, what faces, what mannerisms do you use?
What do you say? What do you Do? Share it in the comments. It could just make someone's day, maybe even save someone's life.